Attending the October 2019 Florence Biennale as the guest of honor to receive an award "Lorenzo il Magnifico"
Anthony Howe collaborates with iris van herpen for her fall 2019 haute couture fashion show in paris
OBLONGATA INSTALLED AT PROCTer and Gamble business center, Mason, ohio
A new collection of small kinetic pieces (not for sale).
A new machine I have dreamed of for years is soon joining howe art - a metal cutting laser made by 3D FABLIGHT
Fern Pull or SHidahiku, Di-Octo's sister, was installed four blocks from the National stadium in Washington DC, just in time for the MLB Allstar game on July 17, 2018
Kadupul is about to be installed in a new public space in Istanbul. More specifics to come...
In cloud light iii installed in al shaheed park, kuwait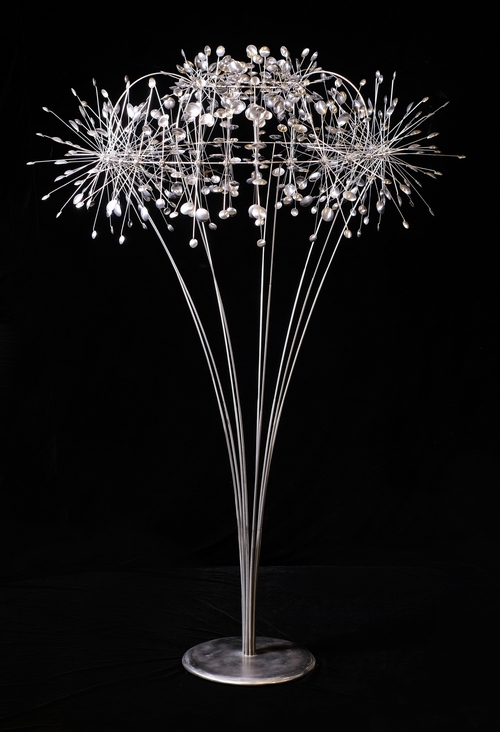 Of Inclining Wonder is in a show at Mass moca opening on june 23, 2018.
A new kinetic sculpture, Looped, powered by the wind, 35 feet high and fabricated by the walla walla Foundry, is headed to Qatar to be installed this fall....more as this develops
Armadillo is in a new sculpture park in Moscow
Fall of 2017 beijing met with ZHang Yi-Mou, film director, about a potential large installation on Shanghai waterfront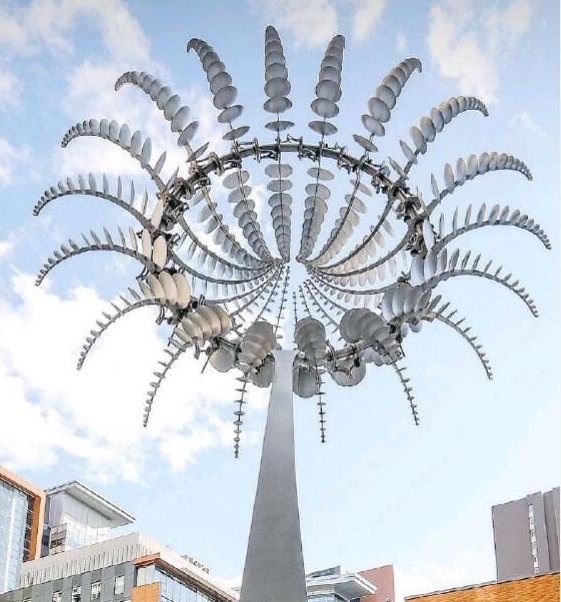 Di Octo is donated to Concordia University - sep 29, 2017
Chancellor Jonathan Wener of concordia university and His wife susan graciously donate di octo. It is now located between mackay st. and maisonneuve blvd.
Azlon Finished at the Walla Walla Foundry - Aug 08, 2017
Azlon finished at the Walla Walla Foundry (http://wallawallafoundry.com/#...) and temporarily installed at the Foundry's local Gallery, Foundry Vineyards. For sale....
In Cloud Light IV in Woodinville, Washington - Aug 08, 2017
In Cloud Light IV was installed in the center of a traffic circle in Woodinville, Washington early this summer 2017. Directly in front of a new condominium complex being constructed there.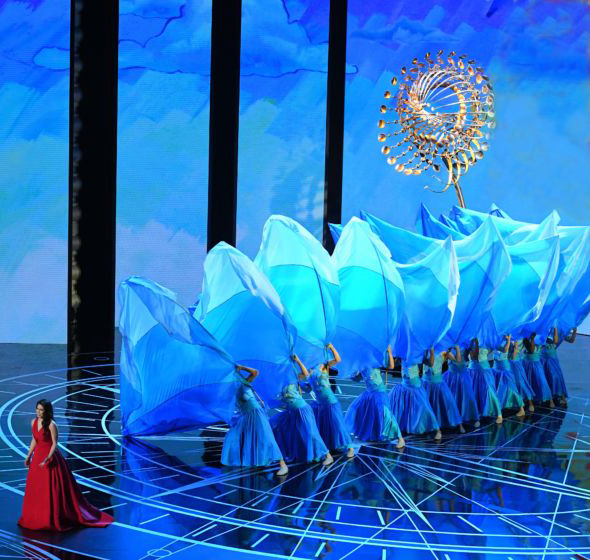 Lucea II makes an appearance in the 89th Academy Awards - Feb 26, 2017
Lucea II appeared behind the actress and singer Auli'i Cravalho singing "How Far I'll Go" from the movie Moana.
Dallas News - Nov 11, 2016
"Anthony Howe creates art that seeks to slow your heartbeat down and make your life better"
Cauldron at Rio 2016 Olympics - Nov 01, 2016
PRESS RELEASE – "American Kinetic Wind Sculptor, Anthony Howe, Kicking Off The Rio 2016 Olympics In Dramatic Fashion With One-Of-A-Kind Olympic Cauldron. Howe's Kinetic Olympic Cauldron Promises to be a Centerpiece in Rio de Janeiro During the 2016 Summer Games and Beyond"
The Seattle Globalist - Aug 09, 2016
"Orcas Island artist steals the show at Rio Olympics opening"
The Topeka Capital-Journal - May 13, 2016
"Kinetic sculpture goes up in downtown Topeka. 'Chief II' is part of Security Benefit pocket park"
Barneys New York - Nov 18, 2014
"Unveiled: Barneys New York Holiday Windows, A Baz Dazzled Affair"
The Creators Project - Oct 02, 2013
"The Creators Project linked up with Anthony Howe, an Eastsound, WA-based painter and sculpture artist to highlight his work in the medium of surreal kinetic wind sculpture that are initially designed in 3D software."